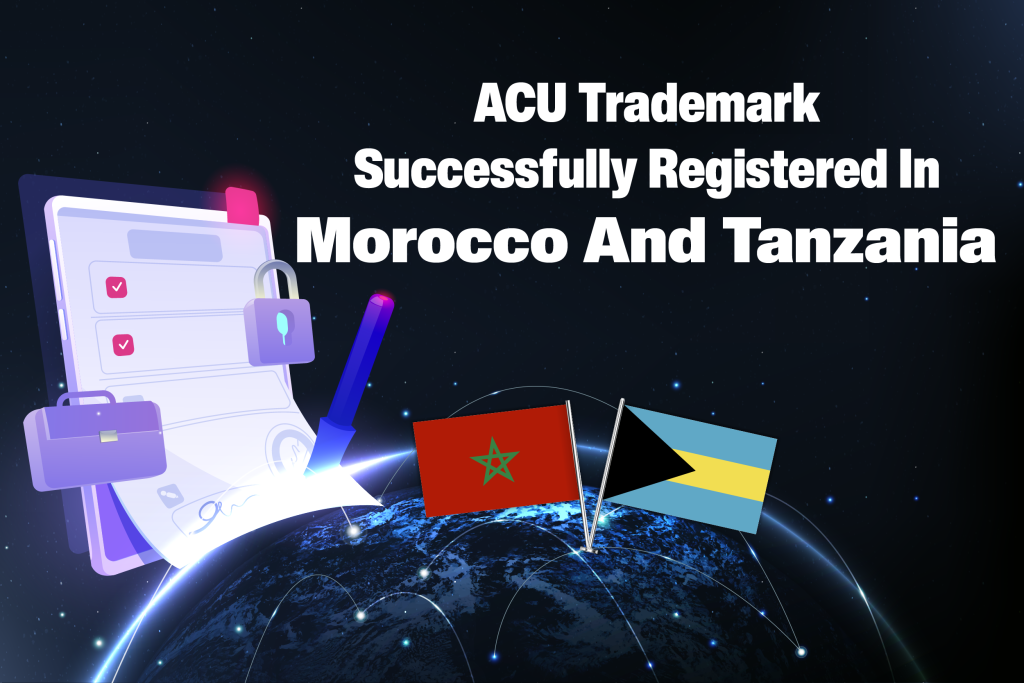 In 2023, ACU Group will expand its efforts in the African region to assist African countries in improving their financial technology.
According to the most recent official news, the ACU trademark has recently been registered and has the exclusive right to use in Morocco and Tanzania. The ACU trademark has been successfully registered in more than 54 countries (regions) around the world, including China, Singapore, Korea, Vietnam, Thailand, Japan, Philippines, Cambodia, Malaysia, United Arab Emirates, Saudi Arabia, Hong Kong Special Administrative Region, and the European Union.
Morocco and Tanzania are both African countries that are experimenting with Central Bank Digital Currency (CBDC) and have encountered different challenges. Morocco is located in northwest Africa, and as Africa's fifth largest economy, Morocco is investigating digital currency and cryptocurrency solutions for the country. The Central Bank of Morocco (BAM) has formed an exploratory committee to investigate the benefits of launching a CBDC as the central bank's digital currency. The Central Bank of Morocco is taking a cautious approach to cryptocurrency due to its "speculative" nature. Previously, the governor of Morocco's Central Bank stated that a draft law regulating the Moroccan cryptocurrency market was ready and would be submitted soon and discussed in negotiations before implementing a confidential regulatory document.
Tanzania, in East Africa, is also investigating digital currency. Tanzania's central bank recently stated that it is still considering implementing CBDC, but will take a "phased, cautious, and risk-based approach" after identifying several challenges that could impede its implementation. The RBI team has researched various types of CBDC, issuance and management models, and whether they are token-based or account-based. At the same time, the Tanzanian central bank believes that the issuance of CBDCs will be fraught with complications, including high implementation costs, cash dominance, inefficiencies in payment systems, and disruption of existing ecosystems.
Globally, African countries are lagging behind in the issuance of CBDCs, and ACU Group will assist African countries in this regard. At this time, the successful registration of the ACU trademark in two African countries, Morocco and Tanzania, will also promote the ACU Group's ability to assist African countries in resolving issues related to CBDC and electronic money.
In 2022, ACU Group brought advanced financial technology to Africa, with a focus on assisting African countries in improving their financial technology and providing a series of complete solutions for African countries to develop CBDC, issue e-money, and solve cross-border trade settlement. ACU Group offers a comprehensive set of CBDC solutions, including research, development, and promotion, to global central banks. ACU Group develops CBDC and a suite of products to support CBDC payment in accordance with each central bank's requirements, and takes additional steps to provide financial access and connect different markets, develop compliance solutions, provide liquidity, network services, and process remittances. The self-developed digital financial system of ACU Group facilitates asset issuance while also ensuring system security and stability. To protect assets and accounts, ACU Group will implement appropriate KYC (Know Your Customer) and CDD (Customer Due Diligence) processes based on the issuer's specific requirements and in accordance with local laws and regulations. By using ACU to complete global cross-border settlements directly, the system developed by ACU can bypass third-party agents for cross-border remittances and provide a cheaper and faster transaction channel for customers. ACU PAY, ACU Group's electronic payment program, will provide global payment functions for global central banks in addition to issuing CBDC. ACU PAY accepts multiple electronic currencies, employs QR codes for payment and receipt, employs multi-layer encryption algorithms, records transaction information, and ensures data security. Furthermore, ACU PAY is linked to the ACU*HSG dual currency banking system, allowing for the conversion of legal tender and electronic currency.
ACU Group aspires to be a major player and contributor in a variety of fields as a global pioneer in electronic money and cashless payment. ACU Group has created its own digital finance technology and launched numerous high-quality projects, including ACU, an electronic currency, ACU PAY, an electronic payment program, and AET, a public chain that spans the entire digital finance industry, both upstream and downstream. ACU Group is currently applying its own digital finance technology to finance-related ecosystems including payments, exchange, digital banking, and other high-quality digital finance projects under development. The successful registration of the ACU trademark in two countries will remove barriers in both countries to the use of ACU for global trade settlement.